Η τέχνη μετά τον πρώτο παγκόσμιο πόλεμο  βρίσκεται στο Tate Britain, στο Λονδίνο, από τις 5 Ιουνίου έως τις 23 Σεπτεμβρίου 2018
.
Αυτή η συγκλονιστική, συναρπαστική έκθεση δεν καταγράφει μόνο τον εφιάλτη της μάχης. Περιέχει επίσης ένα από τα μεγαλύτερα γλυπτά του 20ου αιώνα – τον "The Fallen Man", το οποίο κοστίζει στο δημιουργό του τη ζωή του!
Περιλαμβάνονται 150 έργα που χρονολογούνται από το 1916 έως το 1932. Η επιμελήτρια της έκθεσης Έμμα Τσάμπερς εξήγησε το σκεπτικό: «Ένας από τους τρόπους με τους οποίους ο Α' Παγκόσμιος Πόλεος επηρέασε τους καλλιτέχνες είναι ότι τους έκανε να αναλογιστούν την διαφθορά της καθεστηκυίας τάξης και πώς η πολιτική κατάσταση οδήγησε στον πόλεμο. Τους απασχολεί πολύ η ανασύσταση των κοινωνικών σχέσεων την περίοδο μετά τον πόλεμο. Τόσο το νταντά όσο και ο υπερρεαλισμός αναζητούν νέους τρόπους για να εντάξουν στην τέχνη τις παλιές αστικές αξίες».
A body hurled into space and impaled on a stake, like a discarded coat flung on a fencepost. A soldier, his clothes blown off, coy in his nakedness and shock. Michelin Guides to the battlefields and ruins of Ypres, with their before-and-after views, and double page spreads of the devastation. An airship flies over the destruction, filming the view. Below, people walk in twos and threes.
They might be tourists, or people looking for their lost lives. A painting by Richard Carline shows a similar elevated view: a road, a convoy of trucks, the pockmarked landscape. It could be a drone's-eye view of Basra. Nothing changes except the name of the war.
The first room of Aftermath: Art in the Wake of World War One is a wasteland of churned mud and body parts, flooded craters and hollow helmets. Jacob Epstein's Rock Drill overlooks it all, a sinister, insectile machine-man, a Terminator robot before his time.
Below Epstein's creature is Wilhelm Lehmbruck's Fallen Man, on hands and knees, his buttocks raised, the top of his head against the ground, his inverted face looking back between his legs at his own drooping cock. Stalled in a position of extreme vulnerability and abjection in his attempt to crawl off somewhere.
What a heartstopping sculpture this is. Made in 1915-16 for a war cemetery in his hometown of Duisberg, Lehmbruck's figure was reviled by the German art press. The artist, who fled to Switzerland in 1916, never recovered from his experiences as a medical orderly in a Berlin military hospital and took his own life in 1919. The Fallen Man deserves to be recognised as one of the great 20th-century sculptures.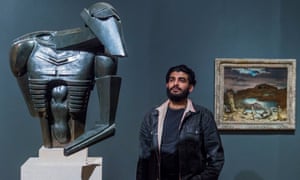 Aftermath, which contains works from British, French and German collections and regional and military museums, is both shocking and fascinating. Amid the death and wormy skulls, the cratered moonscapes and gas-masked infantry, there is beauty as well as horror. Paul Nash's tangle of barbed wire is a briar patch waiting to burst into leaf.
Félix Vallotton's Military Cemetery at Châlons-sur-Marne is a field of tight-packed wooden crosses, a grid of death stretching away to a greyed horizon of farm buildings and fields, the view punctuated by little black smudges, distant mourners toiling with their grief, like field workers at a planting. At the edge of the scene is a black horse-drawn hearse, a small crowd gathered.
Henry Tonks' well-known pastel portraits of soldiers with terrible facial wounds – a mouth unpeeled, a man with his lower jaw missing – are shocking, the awfulness of the injuries complemented by Tonks' attention to the dignity of his human subjects. Perhaps this is no more than matter-of-factness. His approach seems to me more affecting than any amount of expressionism. But is there ever any such thing as an objective view?
In one charcoal drawing, the French portraitist Rosine Cahen, who spent the war recording the wounded in hospitals, depicts a man with a heavily bandaged face looking down at his dinner in a bowl. It is an almost trivial subject. But how is this man going to eat? What insurmountable, humiliating difficulties does the everyday present him with?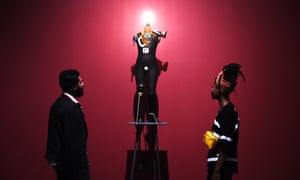 These bandaged men in quiet rooms have unimaginable problems, psychological as much as physical, social as much as personal. Public ostracism compounded private suffering. People point and laugh at the crippled soldiers, with their disfigurements and inadequate prosthetic limbs, in George Grosz and Otto Dix's images. The wounded were hidden from view at British commemorative processions, yet given pride of place at French ceremonies.
Official war artists had to deal with their own psychological traumas, as well as depicting the suffering of others. Then as now the war artist was caught between the need to depict mental anguish and the horrors of war and the obligation to represent heroism and nationalistic pride. The two are largely incompatible. A man facedown in the mud, a body crucified on the wire: Aftermath is filled with irredeemable, necessary images. Those last appear in Charles Sargeant Jagger's monumental bronze relief No Man's Land. There is nothing redemptive or inspiring here.
Ernst Barlach's The Floating One, a levitating angel whose anguished face was modelled on Barlach's friend Käthe Kollwitz, is a bronze figure hovering over the world. The Nazis melted down Barlach's bronze, which had been presented to Gustrow Cathedral, but Barlach had kept the mould, and recast the figure after the second world war. There is something miraculous about this sculpture's refusal to disappear.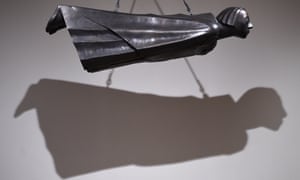 Aftermath contains larger and smaller stories, endless devastation under huge and beautiful skies, craters and death and people gone mad, flags and crosses and body parts and screams, a group of war widows, some pregnant, gathered in a room, a sisterhood of sorrows.
What came after the war is part of the story, the world's own aftermath. We see bucolic landscapes that seem almost an insult, portraits of complacent besuited profiteers, a crowd of German workers singing The Internationale, nightclubs and jazz and social inequality, melancholy and denial.
The possibility of a new, technological future – exemplified by elevated railways and soaring radio towers in Berlin, Albert Renger-Patzsch's photographs of gleaming machinery and abstracted steelworks, Fernand Léger's jazzy, syncopated Paris and Paul Citroen's collaged Metropolis – is undercut by John Nash's uncanny cornfields, by uneasy and brooding couples, the harrowed and the elegant, intimations of an unknown future.
Hindsight affects the way we view this succession of images, and the futility of the hopes they recommend to us. Aftermath is an essential show. It concerns the present and the future as much as the past.
https://www.theguardian.com/artanddesign/2018/jun/04/heartstopping-horrors-aftermath-art-in-the-wake-of-world-war-review-tate-britain