.
Σαν σήμερα γεννήθηκε ο Ιταλός κομίστας (1927 – 1995), δημιουργός του τυχοδιώκτη ναυτικού Κόρτο Μαλτέζε (Corto Maltese), ενός χάρτινου ήρωα με τη δική του ξεχωριστή θέση στον κόσμο της δέκατης τέχνης.
Ο Ούγκο Εουτζένιο Πρατ (Hugo Eugenio Pratt) γεννήθηκε στις 15 Ιουνίου 1927 στο Ρίμινι της Ιταλίας. Στα νεανικά του χρόνια αρκούνταν να γνωρίζει διάφορες γωνιές του κόσμου, ακολουθώντας τους γονείς του στις περιπλανήσεις τους, πρώτα στη Βενετία, ύστερα στην Αιθιοπία και κατόπιν ξανά στην Ιταλία, όπου ήρθε για πρώτη φορά σε επαφή με την τέχνη των κόμικς.
Στα τέλη της δεκαετίας του '40 μετακόμισε στην Αργεντινή, όπου σχεδίασε ορισμένα από τα πιο δημοφιλή κόμικς του: τον «Λοχαγό Κερκ», τον «Ερνι Πάικ», την «Άννα της Ζούγκλας». Στην Ευρώπη επέστρεψε το 1964.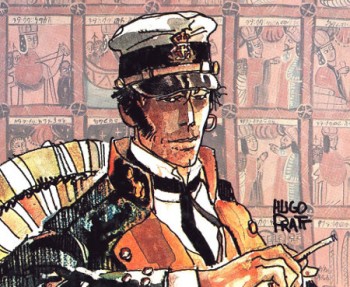 Το 1967 έκανε την πρώτη ιστορία («Η μπαλάντα της αλμυρής θάλασσας») του πιο δημοφιλούς ήρωά του, του Κόρτο Μαλτέζε, ένα κόμικ που πάντρευε την εξωτική περιπέτεια με τη λογοτεχνική κομψότητα, στα πρότυπα των ιστοριών του Ρόμπερτ Λούις Στίβενσον, που ο ίδιος δεν έκρυβε ότι λάτρευε. Ο κεντρικός ήρωας είναι ναυτικός, με τη χαρακτηριστική φαβορίτα και το σκουλαρίκι στο αριστερό αφτί.
Οι ιστορίες του Κόρτο Μαλτέζε είναι συνήθως ασπρόμαυρες, με πολλούς εσωτερικούς μονολόγους και υψηλής λογοτεχνικής ποιότητας κείμενα. Έχουν πολλή μαγεία, πολύ μυστικισμό και πολλούς οιωνούς – καλούς, αλλά, κυρίως, κακούς.
Ο ήρωας, ωστόσο, καταφέρνει και περνά πάνω από τα μυστήρια και τους οιωνούς. Σε κάποιο επεισόδιο, μία μάγισσα είδε την παλάμη του και προέβλεψε ότι η γραμμή της ζωής είναι κοντή, ότι θα πεθάνει γρήγορα. Ο Κόρτο Μαλτέζε δεν απάντησε τίποτε, πήρε ένα μαχαίρι και χάραξε το χέρι του, προεκτείνοντας από μόνος του τη γραμμή που διέκοπτε η φύση.
Σύντομα, «Κόρτο Μαλτέζε» έφθασε να σημαίνει την αφηγηματική πρωτοπορία στα κόμικς. Για περίπου 25 χρόνια ο Πρατ συνέχιζε να σχεδιάζει (όχι με εντατικούς ρυθμούς) ιστορίες με τον τυχοδιώκτη ναύτη του, ενώ η φιλική σχέση που είχε τα τελευταία χρόνια με τον συνάδελφό του Μίλο Μανάρα απέφερε το κοινό άλμπουμ «Ένα ινδιάνικο καλοκαίρι», με σχέδια του Μανάρα και σενάριο του Πρατ.
Ο Ούγκο Πρατ πέθανε στις 20 Αυγούστου 1995, στη Λωζάννη, από καρκίνο, όμως οι περιπέτειες του Κόρτο Μαλτέζε συνεχίζουν και θα συνεχίσουν να συναρπάζουν τους λάτρεις των εικονογραφημένων αφηγήσεων. Χάρη στις περιπέτειες αυτές, ο Πρατ σήμερα μπορεί να θεωρείται ο πρώτος κλασικός των κόμικς – μιας τέχνης που μόνο ελάχιστοι καχύποπτοι εξακολουθούν να θεωρούν επιφανειακή και εφήμερη.
https://www.sansimera.gr/biographies/1430
Hugo Eugenio Pratt (June 15, 1927 – August 20, 1995) was an Italian comic book creator who was known for combining strong storytelling with extensive historical research on works such as Corto Maltese. He was inducted into the Will Eisner Award Hall of Fame in 2005.
From the summer of 1959 to the summer of 1960, Pratt lived in London where he drew a series of war comics for Fleetway Publications, with British scriptwriters. He then returned to Argentina, despite the harsh economic times there. From there, he moved again to Italy in 1962 where he started a collaboration with the children's comic book magazine Il Corriere dei Piccoli, for which he adapted several classics of adventure literature, including Treasure Island and Kidnapped by Robert Louis Stevenson.
In 1967, Pratt met Florenzo Ivaldi; the two created a comics magazine named after his character, Il Sergente Kirk, the hero first written by Héctor Oesterheld. In the first issue, Pratt's most famous story was published: Una ballata del mare salato (A Ballad of the Salt Sea), which introduced his best known character, Corto Maltese.
Corto's series continued three years later in the French magazine Pif gadget. Due to his rather mixed family ancestry, Pratt had learned snippets of things like kabbalism and lots of history.
Many of his stories are placed in real historical eras and deal with real events: the 1755 war between French and British colonists in Ticonderoga, colonial wars in Africa and both World Wars, for example. Pratt did exhaustive research for factual and visual details, and some characters are real historical figures or loosely based on them, like Corto's main friend/enemy, Rasputin. Many of the minor characters cross over into other stories in a way that places all of Pratt's stories into the same continuum.
https://en.wikipedia.org/wiki/Hugo_Pratt
Κράτα το