Serpentine : το πιο διάσημο εφήμερο περίπτερο τέχνης του κόσμου
Η Serpentine Gallery, η οποία  βρίσκεται στους κήπους Kensington, στο δυτικό τμήμα του Hyde Park στο Λονδίνο, αναθέτει κάθε χρόνο, από το 2000 σε κορυφαίους αρχιτέκτονες του κόσμου, το σχεδιασμό του καλοκαιρινού της περιπτέρου – μία προσωρινή κατασκευή εξωτερικού χώρου που φτιάχνεται κάθε χρόνο για την περίοδο των 4 μηνών του καλοκαιριού δίπλα στην γκαλερί.
Mια φωτογραφική διαδρομή από το 2018 προς τα πίσω στο 2000 για εσάς!!!
The Serpentine is a world-famous contemporary art centre in London composed of two galleries at the opposite sides of the Kensington Gardens' Serpentine Lake in Hyde Park: the original Serpentine Gallery, established in 1970 in a former tea pavilion, and the new Serpentine Sackler Gallery opened in 2013 and designed by the Iraqi-born British architect Zaha Hadid. Along with the activity of its permanent galleries, the Serpentine is renowned for the temporary summer pavilion, commissioning since 2000 to some of the most prominent international architects.
The pavilions, which last for three months and should be realized with a limited budget, are located in the heart of the Kensington Gardens and are intended to provide a multi-purpose social space where people gather and interact with contemporary art, music, dance and film events.
In this summary, Inexhibit magazine presents a short history by images of all Serpentine Galleries Summer Pavilions since the first one, designed by Zaha Hadid in 2000 up to the 2017 edition, design by Diébédo Francis Kéré, leader of Berlin-based practice Kéré Architecture.
THE SERPENTINE SUMMER PAVILIONS – from 2018 to 2000
Serpentine Gallery Pavilion 2018 – Frida Escobedo
Serpentine Pavilion 2018, designed by Frida Escobedo, Serpentine Gallery, London (15 June – 7 October 2018) © Frida Escobedo, Taller de Arquitectura, Photography © 2018 Iwan Baan
Serpentine Gallery Pavilion 2017 – Diébédo Francis Kéré (Kéré Architecture)
The Serpentine Pavilion 2017 designed by Diébédo Francis Kéré, rendering, interior view
Serpentine Gallery Pavilion 2016 –  by BIG- Bjarke Ingels 
The Serpentine Pavilion 2016 designed by Bjarke Ingels; photo © Iwan Baan
Serpentine Gallery Pavilion 2015 – SelgasCano
The Serpentine Pavilion 2015 designed by SelgasCano; photographs © Iwan Baan
Read more on Inexhibit about the Serpentine Summer Pavilion 2015 here
---
Serpentine Gallery Pavilion 2014 – Smiljan Radić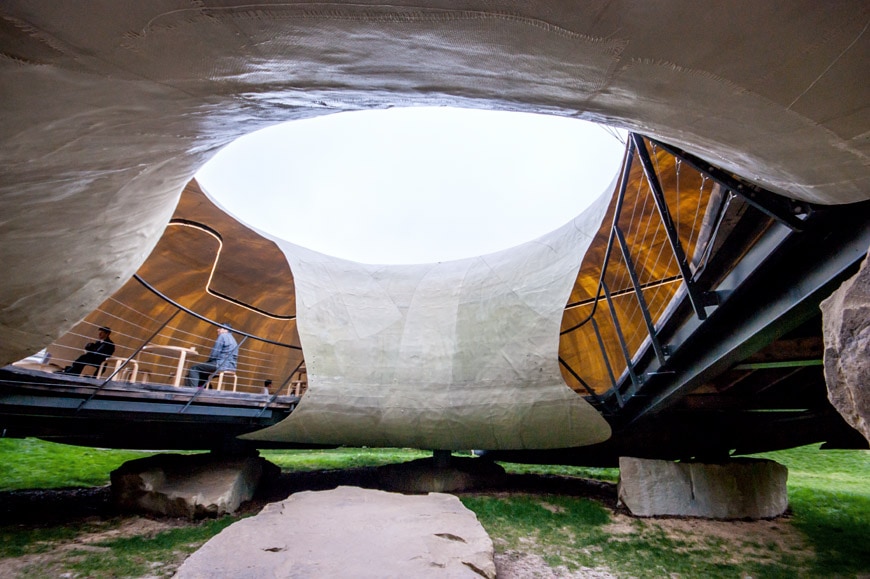 Top and bottom: the pavilion in September 2014, photos Riccardo Bianchini © Inexhibit
Middle: internal indicative CGI © 2014 Smiljan Radić Studio
We have visited Radić pavilion in September 2014, the related article is accessible through the link below!
---
Serpentine Gallery Pavilion 2013 – Sou Fujimoto
Top: Photograph © 2013 Iwan Baan. Down: Photograph © 2013 Jim Stephenson
---
Serpentine Gallery Pavilion 2012 – Herzog & de Meuron and Ai Weiwei
Top: Photograph © 2012 Iwan Baan.  Down: Photograph © 2011 John Offenbach

---
Serpentine Gallery Pavilion 2011 – Peter Zumthor
Photographs © 2011 John Offenbach
---
Serpentine Gallery Pavilion 2010 – Jean Nouvel
 Photograph © 2010 John Offenbach
---
Serpentine Gallery Pavilion 2009 – Kazuyo Sejima and Ryue Nishizawa of SANAA
Photograph © 2009 Edmund Sumner/VIEW
---
Serpentine Gallery Pavilion 2008 – Frank Gehry
Photograph © 2008 Nick Rochowski/VIEW 2014
---
Serpentine Gallery Pavilion 2007 – Olafur Eliasson & Kjetil Thorsen
Photograph © 2007 Luke Hayes/VIEW
---
Serpentine Gallery Pavilion 2006 – Rem Koolhaas and Cecil Balmond, with Arup
Photograph © 2006 John Offenbach
---
Serpentine Gallery Pavilion 2005 – Álvaro Siza, and Eduardo Souto de Moura with Cecil Balmond
Photograph © 2005 Sally Tallant

---
Serpentine Gallery Pavilion 2003 – Oscar Niemeyer
Photograph © 2003 Sylvain Deleu TASCHEN has provided the images and the book Serpentine Gallery Pavilions includes more photos and illustrations of the Pavilion commissions
---
Serpentine Gallery Pavilion 2002 – Toyo Ito and Cecil Balmond with Arup
Photograph © 2002 Sylvain Deleu TASCHEN has provided the images and the book Serpentine Gallery Pavilions includes more photos and illustrations of the Pavilion commissions
---
Serpentine Gallery Pavilion 2001 Eighteen Turns – Daniel Libeskind with Arup
Photographs © 2001 Hélène Binet
---
Serpentine Gallery Pavilion 2000 – Zaha Hadid
Photograph © 2000 Hélène Binet
https://www.inexhibit.com/case-studies/serpentine-galleries-pavilions-history/