Once upon a time it was a shepherd's family. They had all their sheep together in a corral. They fed them, cared for them and grazed them.
Somewhere, the sheep were trying to break it.
The oldest shepherd came and said,
"Oh, sheep unconsciously and arrogant, do not you know that out there the plains are full of dangers? Only here is plenty of water, food, and above all, protection from the wolves. "
In general, this was enough to hinder the sheep's "freedom".
Μια φορά και έναν καιρό ήταν μια οικογένεια βοσκών. Είχαν όλα τα πρόβατά τους μαζί σ' ένα μαντρί. Τα τάιζαν, τα φρόντιζαν και τα βοσκούσαν.
Κάπου κάπου, τα πρόβατα προσπαθούσαν να το σκάσουν.
Ερχόταν τότε ο πιο γέρος βοσκός και τους έλεγε:
«Α, πρόβατα ασυνείδητα και αλαζονικά, δεν ξέρετε ότι εκεί έξω ο κάμπος είναι γεμάτος κινδύνους; Μονάχα εδώ βρίσκετε άφθονο νερό, φαγητό, και προπαντός, προστασία από τους λύκους».
Γενικά, αυτό αρκούσε για να φρενάρει τις τάσεις «ελευθερίας» των προβάτων.
One day a different sheep was born. Let's say it was a black sheep. He had revolutionary moods and stirred up his comrades to escape to the freedom of the meadows.
The visits of the old shepherd who tried to persuade the sheep for the external dangers thickened. However, the sheep were uncomfortable, and every time they pulled them out of the pen, they were getting harder to pick them up.
By night, the black sheep convinced them and they broke it.
Μια μέρα γεννήθηκε ένα διαφορετικό πρόβατο. Ας πούμε πως ήταν ένα μαύρο πρόβατο. Είχε επαναστατικές διαθέσεις και ξεσήκωνε τους συντρόφους του να το σκάσουν προς την ελευθερία των λιβαδιών.
Πύκνωσαν οι επισκέψεις του γέρου βοσκού που πάσχιζε να πείσει τα πρόβατα για τους εξωτερικούς κινδύνους. Ωστόσο, τα πρόβατα ήταν ανήσυχα, και κάθε φορά που τα έβγαζαν από το μαντρί όλο και πιο δύσκολα τα μάζευαν.
Ώσπου μια νύχτα, το μαύρο πρόβατο τα έπεισε και το έσκασαν.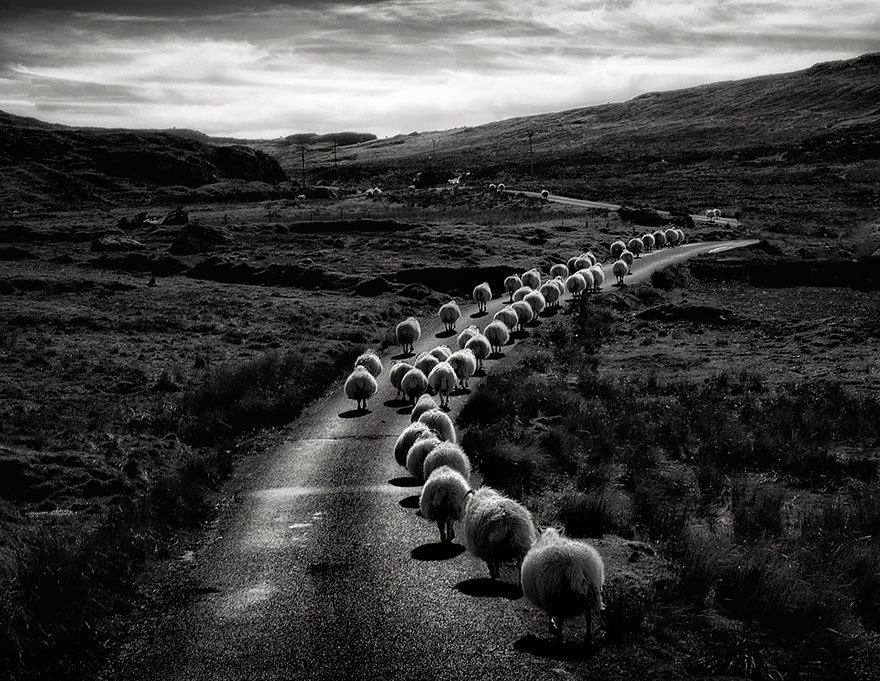 The shepherds did not realize anything until dawn when they saw the corral broken and empty.
Everyone went to cry with the elder, the head of the family.
"They left, they left!"
"The poor sheeps …"
"And the hunger?"
"And thirst?"
"And the wolf?"
"What will happen without us?"
The old man burst out, rubbed his pipe and said,
"Really, what will happen without us? And the worst is …
… What will we do without them? "
Οι βοσκοί δεν αντιλήφθηκαν τίποτα ως το ξημέρωμα, όταν είδαν το μαντρί σπασμένο και άδειο.
Όλοι πήγαν να κλάψουν μαζί με το γέροντα, τον αρχηγό της οικογένειας.
«Έφυγαν, έφυγαν!»
«Τα κακόμοιρα…»
«Και η πείνα;»
«Και η δίψα;»
«Και ο λύκος;»
«Τι θ' απογίνουν χωρίς εμάς;»
Ο γέροντας έβηξε, ρούφηξε την πίπα του και είπε:
«Αλήθεια, τι θ' απογίνουν χωρίς εμάς; Και το χειρότερο είναι…
… Τι θ' απογίνουμε εμείς χωρίς αυτά;»….
________
  Χόρχε Μπουκάϊ
  Πηγή: anarchypress
Κράτα το