.
Show in Manchester displays key objects shedding light on massacre 200 years ago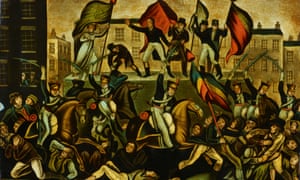 A piece of commemorative glass with an image of the massacre, which will feature in the exhibition. Photograph: People's History Museum
The Scum Uppermost, a satirical cartoon of popular radical reform represented as a many-headed monster, and embroidered flags are among the objects being brought together for the first time in an exhibition marking the 200th anniversary of the Peterloo massacre.
Eighteen people were killed and 700 injured at the peaceful protest for democratic reform in Manchester in 1819, and the exhibition will chart its legacy and the ways in which the storywas suppressed. Continue reading →