.
Show in Manchester displays key objects shedding light on massacre 200 years ago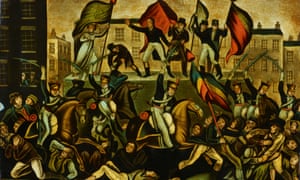 A piece of commemorative glass with an image of the massacre, which will feature in the exhibition. Photograph: People's History Museum
The Scum Uppermost, a satirical cartoon of popular radical reform represented as a many-headed monster, and embroidered flags are among the objects being brought together for the first time in an exhibition marking the 200th anniversary of the Peterloo massacre.
Eighteen people were killed and 700 injured at the peaceful protest for democratic reform in Manchester in 1819, and the exhibition will chart its legacy and the ways in which the storywas suppressed.

"We're at a tipping point right now in terms of climate change and democracy," said the museum's programme officer, Michael Powell, referencing the recent school climate strikes and women's marches in which hundreds of thousands of protesters took to the streets.
"So the knowledge of where our rights to protest come from is extremely important. But so many people just don't know about Peterloo or about working-class history, and so this is something we're hoping to change."
Εκτός από αυτή την έκθεση στο People's History Museum, Manchester από τις 23 Μαρτίου έως και τις  23 Φεβρουαρίου 2020, ο  Μάικ Λι έφερε στη μεγάλη οθόνη την περιβόητη σφαγή του 1819 στο Σεντ Πίτερς Φιλντς του Μάντσεστερ όταν κατ' εντολή των αρχών της πόλης η ειρηνική διαδήλωση χιλιάδων ανθρώπων διαλύθηκε με αιματηρό τρόπο.
«Κάποια πράγματα καλυτερεύουν, κάποια μένουν πάντοτε τα ίδια», απαντά στη σύζυγό του ένας εργάτης όταν εκείνη τον ρωτάει για το μέλλον, αλλά και το νόημα της μεγάλης πορείας που ετοιμάζεται να κάνει την επαύριο ο λαός του Μάντσεστερ.
Βρισκόμαστε στην αγγλική μεγαλούπολη του βορρά τον Αύγουστο του 1819, όταν μια σειρά από άδικους νόμους και η γενικότερη κυβερνητική πολιτική απαξίωσης των λαϊκών στρωμάτων έχουν σπρώξει το σύνολο των μη προνομιούχων στην απόγνωση.
Έτσι, ο φρέσκος αέρας δημοκρατικής μεταρρύθμισης που φυσά σ' όλη τη χώρα φτάνει και στην κομητεία του Λάνκασαϊρ, η οποία δεν έχει καν αντιπρόσωπο στο εθνικό κοινοβούλιο.
Θέλοντας να υπερασπιστούν τα στοιχειώδη δικαιώματά τους, πάνω από 60.000 πολίτες θα συγκεντρωθούν ειρηνικά στην πλατεία Σεντ Πίτερς, όπου ο παθιασμένος ρήτορας Χένρι Χαντ θα απευθυνθεί στο πλήθος.
Πριν καν τελειώσει το λόγο του, όμως, οι αρχές (δημοτικές, δικαστικές, πολιτειακές και θρησκευτικές) διατάζουν το στρατό να επέμβει δυναμικά, με αποτέλεσμα μια αναίτια εκατόμβη που άφησε πίσω της νεκρούς κι εκατοντάδες τραυματίες. Έμεινε στην ιστορία ως «Σφαγή του Πίτερλου»!
https://www.theguardian.com/world/2019/mar/20/peterloo-exhibition-targets-new-generation-of-protesters