.
The idea of a penis festival may sound ludicrous, but actually, it's a Shinto religious tradition many Japanese folks take seriously. So there's a solemn aspect to it, but you can also have fun there! Here's how to enjoy it.
Where Does The Tradition Come From?
As is often the case, "matsuri" festivals in Japan are centered around a Shinto shrine. In Kawasaki, a suburb of Tokyo, there is the Kanayama (金山) shrine which encompasses in its premises the Wakamiya Hachimangu (若宮八幡宮), a kind of secondary inner shrine dedicated to the goddess of creation Izanami, which is one of the most important deities of the Shinto religion.
When she gave birth to her son Kagutsuchi, the god of fire, she burnt her reproductive organs and died. The Wakaiya Hachimangu is a shrine hence that is dedicated to sexual health. From the Edo Era, people prayed at that shrine to recover from STDs which were very prevalent in Japan at the time.
The Penis Festival From 1969 In Kawasaki
Although the praying at the shrine goes way back centuries ago, the festival only started in 1969. Kanamara (金まら) literally means steal phallus. It symbolizes protection from STDs, but also more broadly fertility and sexual harmony in a couple.
It is held annually in Kawasaki, in Kanagawa Prefecture, at the Kanayama shrine. The nearest station is Minatocho. From Tokyo, it takes about one hour to get there.
How To Enjoy It?
Over the years, the matsuri has become very festive and inclusive. People of all ages and sexual orientations participate and tourists are also very welcomed. It has become a huge event attracting about 50,000 people every year.
https://favy-jp.com/topics/1658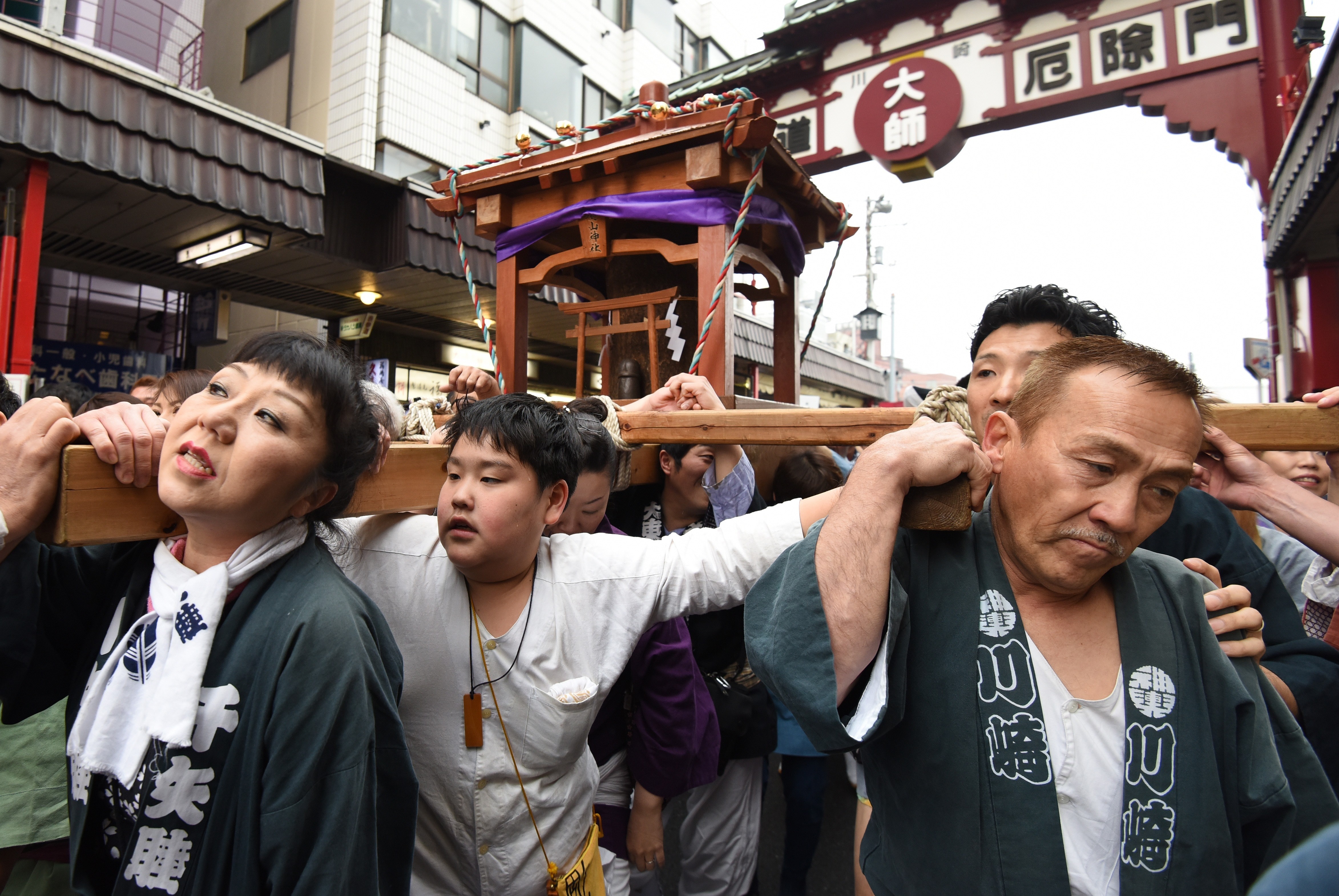 Από το Μπουρανί στην Ιαπωνία !!!
Η γιορτή του Σιδερένιου Φαλλού, το Kanamara Matsuri, διεξάγεται κάθε χρόνο την πρώτη Κυριακή του Απριλίου στο Καβασάκι (Kawasaki) της Ιαπωνίας!
Στους δρόμους οι μικροπωλητές πωλούν από λαχανικά μέχρι γλειφιτζούρια σε σχήμα φαλλού. Όλοι οι στολισμοί παραπέμπουν στον φαλλό.
Μπορεί να επικρατεί κλίμα ευθυμίας όμως το φεστιβάλ είναι καθαρά θρησκευτικό, μάλιστα στην πόλη υπάρχει και ναός αφιερωμένος στο πέος όπου κάποτε ήταν δημοφιλής στις εκδιδόμενες γυναίκες που παρακαλούσαν για προστασία από σεξουαλικώς μεταδιδόμενα νοσήματα.
Σήμερα ο κόσμος προσεύχεται για καλή τύχη, για να πάνε καλά οι δουλειές, για να βρουν ταίρι, για αρμονική συνύπαρξη, για εύκολη γέννα, ή για να μείνει κάποια γυναίκα έγκυος.
Το φεστιβάλ με τη μορφή που είναι σήμερα ξεκίνησε το 1977 και τα χρήματα που συγκεντρώνονται αποδίδονται στην έρευνα για την καταπολέμηση του AIDS, όμως η ιστορία είναι πολύ παλιά.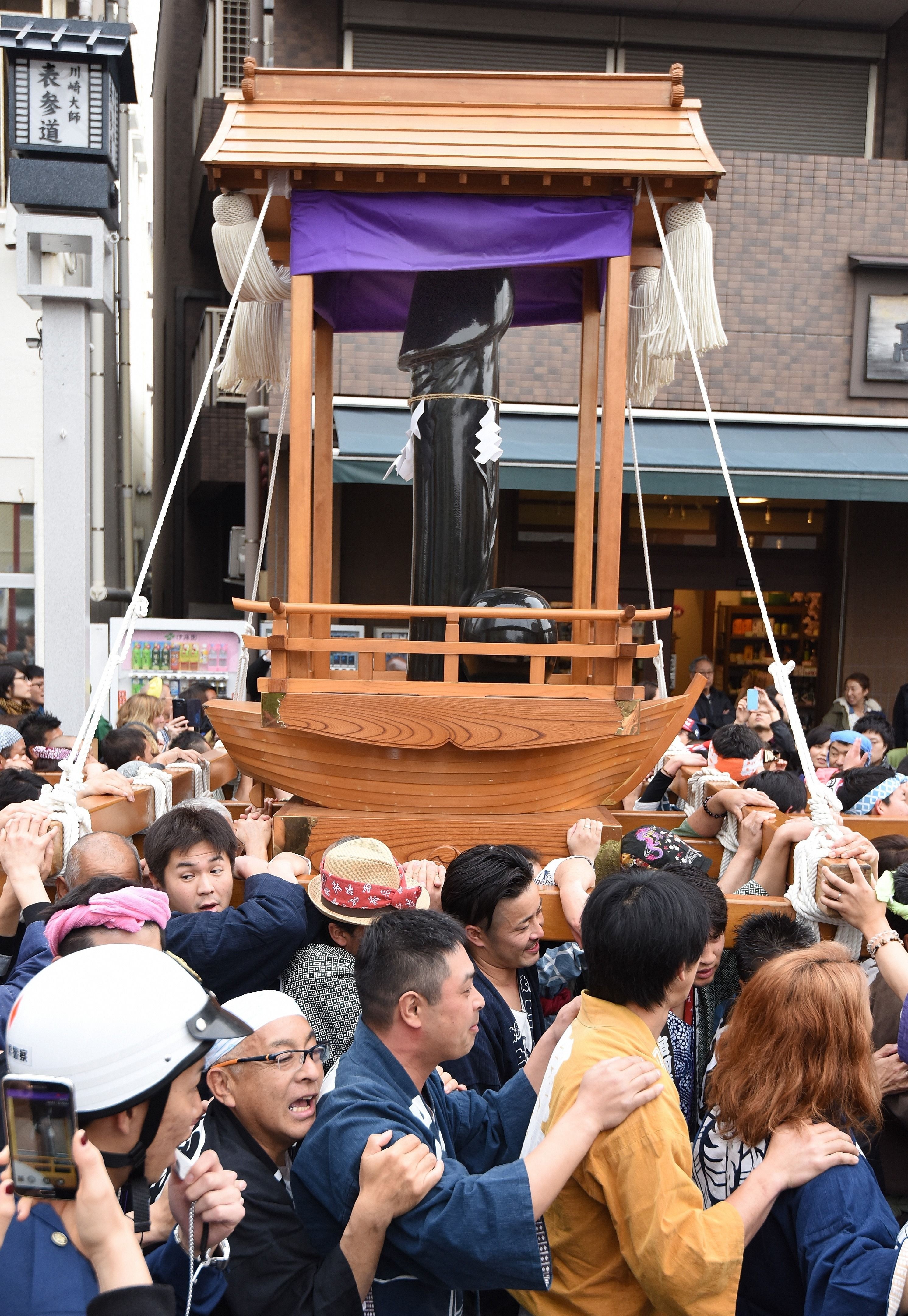 Σύμφωνα με τον θρύλο ένας δαίμονας με κοφτερά δόντια ερωτεύθηκε μια όμορφη γυναίκα η οποία όμως τον αρνήθηκε τότε αυτός για να την εκδικηθεί κρύφτηκε μέσα στο αιδοίο της και την πρώτη νύχτα του γάμου της ευνούχισε τον γαμπρό. Η γυναίκα αποφάσισε να ξαναπαντρευτεί όμως και ο δεύτερος σύζυγος είχε την τύχη του πρώτου. Τελικά η νεαρή γυναίκα ζήτησε τη βοήθεια ενός σιδερά ο οποίος κατασκεύασε ένα μεταλλικό πέος με το οποίο εξαπάτησε τον δαίμονα ο οποίος νομίζοντας πως επρόκειτο για νέο γαμπρό στο δάγκωμα έσπασε τα δόντια του και απάλλαξε μια για πάντα τη νεαρή από την παρουσία του.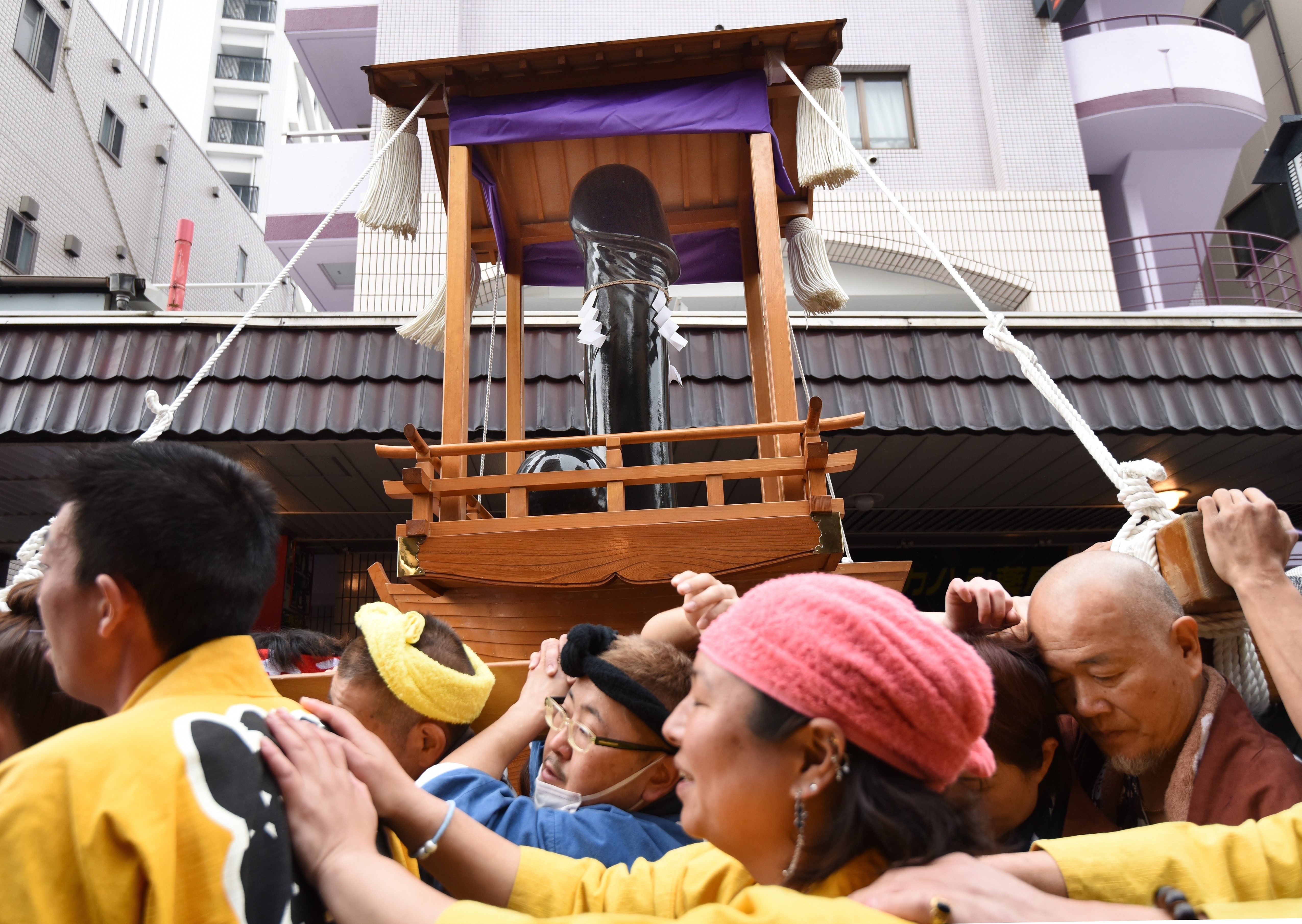 https://www.huffingtonpost.gr/2016/04/03/diethnes-kanamara-matsuri_n_9604792.html